DERMO COSMETIC

Lifting patch
Boosts skin lifting, promotes elasticity, and eases potential swelling with nutrients supplied by its hydrogel contents.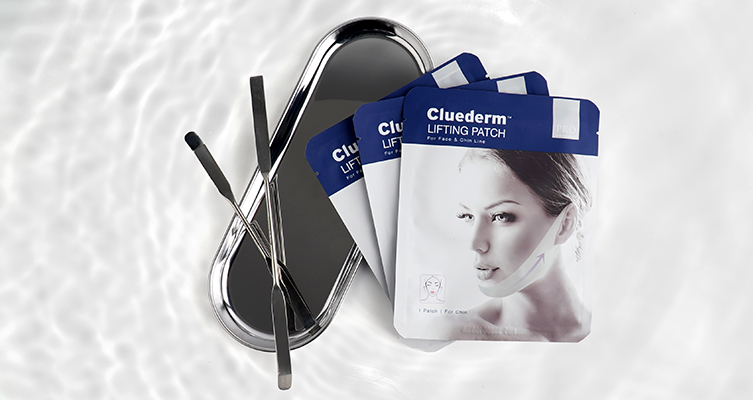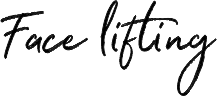 Medi-After Cream
Soothes and moisturizes sensitive skin after any resurfacing and tightening treatments.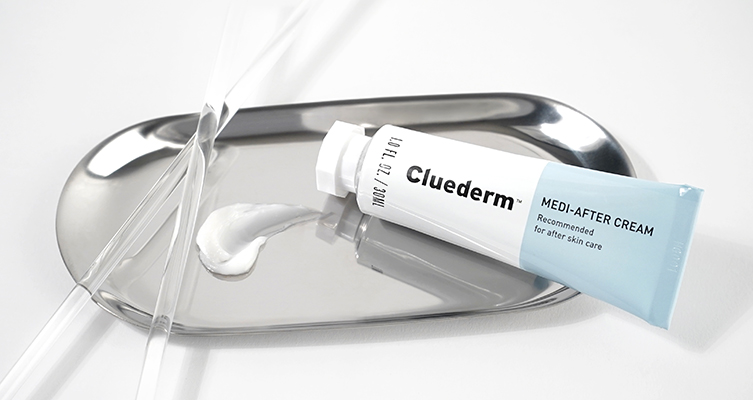 01
Our Story
Be a part of a journey to reveal a younger, more beautiful you.
Fit for all skin profiles, dull, sensitive, mild, and without limit, our experts at CLUEDERM have perfected the most nourishing solutions
in the Lifting Patch and Medi-After Cream to achieve beauty tailored your way.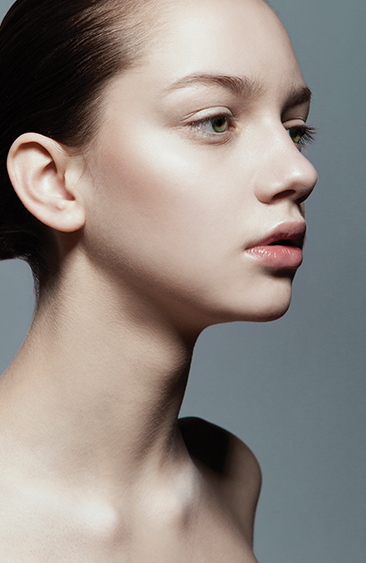 To add both confidence and finishing touches
to uncover a younger you
We have fused together carefully selected ingredients to keep all skin types feeling calm, hydrated, and on the right track, after receiving non-invasive, skin resurfacing procedures at your respective clinic.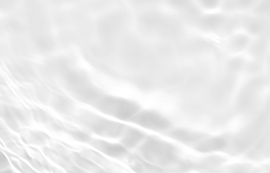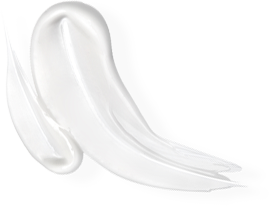 Our solutions are deeply rooted in delivering true satisfaction to your individual skincare goals.
03
The Perfect Formula
Providing multiple benefits from anti-wrinkling to soothing irritated skin,
The powerful properties and features of both the Lifting Patch and
Medi-After Cream guarantee exceptional post-treatment care to fortify resurfaced skin.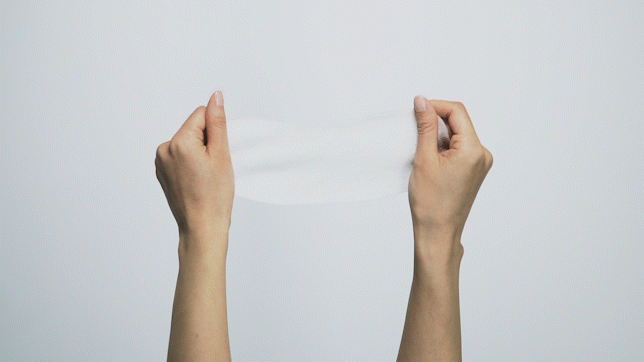 LIFTING PATCH
Strong Elastic Fabric
The superior adhesive quality of the fabric boosts the restoration process to prevent loose and sagging skin.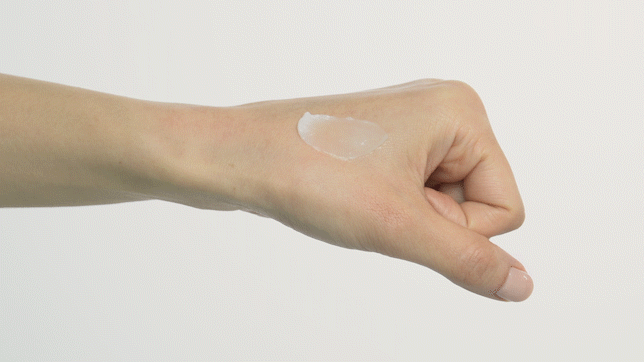 MEDI-AFTER CREAM
Potent Healing Agent
Fused with naturally-derived ingredients into a potent solution that heals, moisturizes, and strengthens sensitive skin against external elements upon absorption.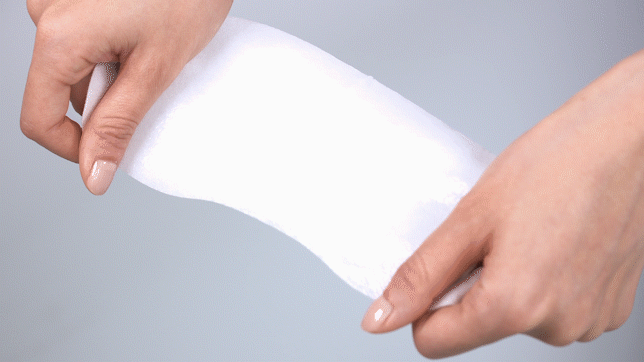 LIFTING PATCH
Highly Enriched Hydrogel
The highly enriched hydrogel is thicker than regular gel and helps to evenly and precisely deliver active ingredients to the skin for an extended 1-2 hours.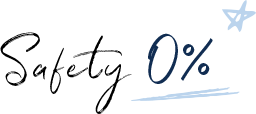 Test Substance No.
Test Substance Name
Response Index
Skin Reaction
Average Skin Reaction
30 minutes
24 hours
48 hours
No. 1
CLUEDERM Medi-After Cream
0
0.0
0.0
0.0
0.0
Skin Patch Test Source: Korea Institute of Dermatological Sciences (February 18, 2016)
04
Guaranteed Results
To ensure that our products are fully safe and effective,
We recruited multiple participants to experience our products and the benefits they promise.
LIFTING PATCH & MEDI-AFTER CREAM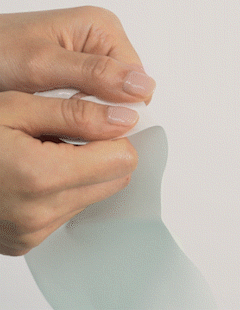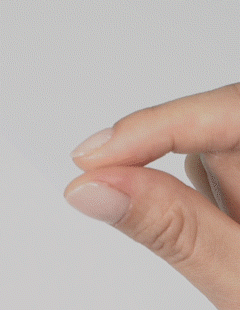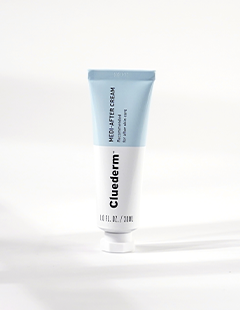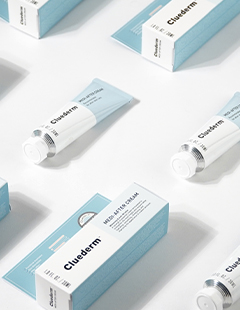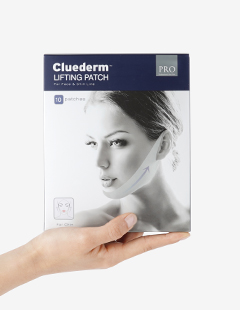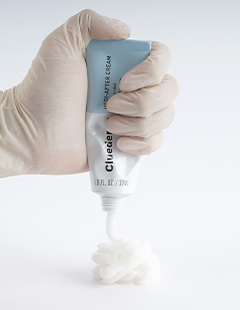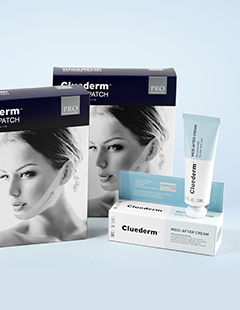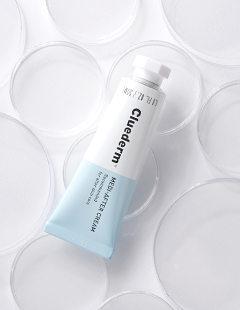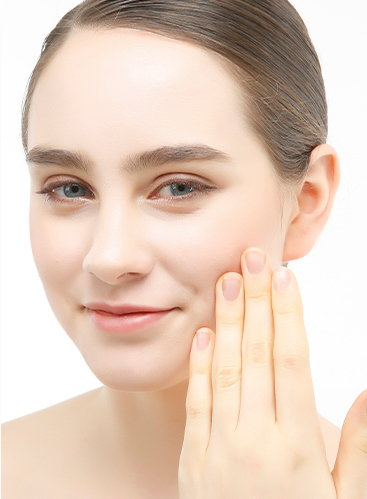 Step 1
Cleanse your skin thoroughly before application.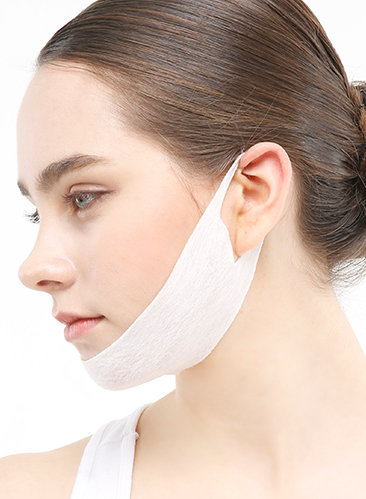 Step 2
Apply the outer openings of the Lifting Patch over both ears for proper attachment. Leave on the face for 20-30 minutes.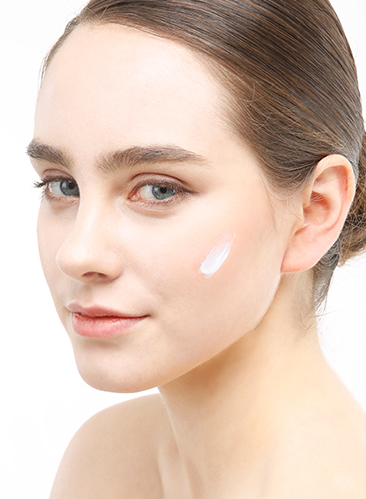 Step 3
After removing the Lifting Patch, apply the Medi-After Cream on affected areas.
06
What's Inside
Discover what natural ingredients we have unearthed and formulated for a natural restoration of you.

Lifting patch
Aloe Vera Leaf Juice
Aloe vera works wonders on the patient's skin, with supplying a sufficient volume of water into the epidermis. And fit for all skin types, aloe vera leaf juice moisturizes multiple layers of skin for a calm, soothing effect.
Contents in this ingredient also contribute to skin cell renewal, packed with enzymes to hydrate sensitive and tired skin for a brighter complexion.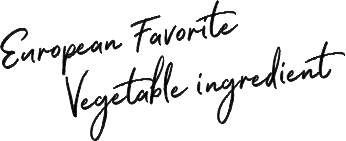 Medi-After Cream
Dioscorea Japonica Root Extract
A key ingredient that was previously extracted from snail mucus, phytomucin's skin moisturizing capabilities can also be harvested from wild yam roots.
A slimy secretion that acts as a potent healing agent when the snail's body is externally damaged, phytomucin not only provides an anti-inflammatory solution to skin, but it can also supply sufficient moisture, additional skin durability to improve elasticity, as well as achieving a brighter, livelier glow.

Medi-After Cream
Centella Asiatica
A perennial herb, originally recognized for its cooking and medicinal properties, has recently gained popularity as an enriching wonder to healthy skin.
Packed with flavonoids, triterpenic steroids, and amino acids, extracts from centella asiatica not only deliver sufficient moisture to soothe and relieve irritated skin, but they can also help synthesize new collagen and stimulate further buildup of skin elasticity.
Previous studies also show that the powerful antioxidant properties of centella asiatica can also help restore the skin's protective barriers following non-invasive facial treatments and sun exposure.
All examinations must be thoroughly conducted to ensure the skin is safe.
07
Begin Your Journey
For healthy, beautiful skin by resurfacing damaged layers, tightening pores to lift sagging and wrinkled regions,
and cooling care on irritated areas, topped off with the Lifting Patch and Medi-After Cream to rejuvenate yourself to the finish line.